I am by no means any sort of expert on this topic. However, I do love good, quality food. I've also lost weight over the last year (and I hope to never find it again!) and I give a lot of credit to my change in eating habits. I want to share with you just a few of my favorites!
AVOCADOS


I could eat avocado every single day. I don't eat too too much because they are calorie-dense and I am trying to lose weight BUT they are also filled with awesome good fats. I can find a way to eat them at every meal- on eggs, on salads, mashed and used as dip for veggies...so versatile!
EZEKIEL BREAD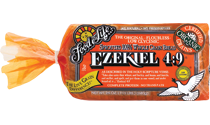 I am not gluten free. I won't try to be because I like my wheat. However, I try to stay away from white-bread products. Ezekiel bread is my go-to bread. The ingredients are basic and no crazy chemicals. It has protein, fiber, and no preservatives (which is why you find it in the freezer section NOT the shelves)
CHICKEN BREAST
Ok so chicken by itself can be boring boring boring. BUT it is a blank canvas and can be used for so many different things. Grill, bake, saute, you name it. The bland flavor can be dressed up. I grill it on my foreman grill and serve with some dijon mustard OR make my own taco seasoning and put it over brown rice for a quick dinner.
KALE & SPINACH


Two of my favorite dark leafy greens. Smoothies, sauteed, steamed...they are easy to work with and so good for you. Just yesterday morning I had kale and eggs. It was tasty! If you find kale to be too much, start with spinach but I highly recommend kale too.
WATER
well duh. BUT I tend to go for flavored (not sugary) seltzers. They give me the illusion that I am drinking something else, but there are no additives but flavors. La Croix is my favorite brand because they use natural flavors. I used to drink Polar seltzer all the time but I can't get it here in TN.
APPLES


Quick snack. And full of fiber. AND the rough nature of the apples are said to help your gums too. I am partial to granny smith because they are crisp and slightly tart. I don't like mushy apples. (another side note: I also like applesauce pouches in a pinch. but I make sure that they have no added sugar)
PEANUT BUTTER
another calorie dense food BUT oh so good for a dose of protein and good fats. I will choose this over almond butter any day, all day, but then again I don't have an allergy. But, almond butter is good too. I like to mix some peanut butter into my oatmeal or a smoothie. I don't generally use more than a tablespoon at a time, again, because it is calorie dense! Also- make sure you buy an all natural peanut butter that has no added sugar or oil!
LOTS & LOTS OF FRESH VEGGIES
This is a given but EAT YOUR COLORS. Sugar snap peas, sweet potatoes, red bell pepper, carrots, cucumber, broccoli, etc etc etc. I love to eat it all. Steamed, raw, lightly sauteed in olive oil. I try to get veggies in at every single meal (breakfast included) for the nutrients and the fiber!
What are some of your favorite healthy eats??