It's Sunday! I am currently munching on leftover biscuits and trying not to think about Monday being only a day away! Today is my fantasy football league's draft, wish me luck!
Now it's time for Sunday Social as always!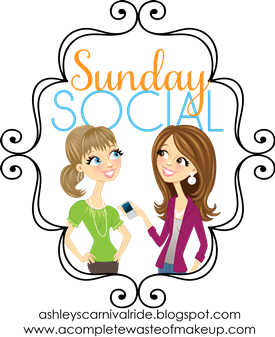 1. What is something you've always wanted to do but are afraid of?
Maybe skydiving. I am pretty sure it will never happen, even though it would be a cool feeling.
2. Where do you see yourself in five years?
Honestly? I don't really know. The last 5 years have looked so different than what I thought they would have looked, so while I have goals, I don't know where I am going to be in 5 years. Hopefully married with a family, but as far as where, with who, and my job...well, that will be TBD.
3. What are you looking forward to before the end of 2013?
MOVING. Tennessee is calling my name.
4. What are your hopes for your blog?
To keep growing. I am nearly at 200 followers on Bloglovin' which is amazing to me that even THAT many people care about my little space here.
5. Do you always see yourself living in your current town/city?
Nope and really honestly never did. I really only stayed here as long as I have because I didn't know where I wanted to go. But, I have that started to be sorted out!
6. What is your morning routine?
Wake up, groan that I have to get out of bed, pee (hey! I'm just being honest!), brush my teeth, make coffee, make breakfast, check my email, read some blogs, watch the news (kind of simultaneously).